A company plans to more than double its local workforce with a new facility in Louisville.
ArcWear broke ground on its new Louisville facility earlier this week. The company is building a 30,000-square-foot laboratory and testing facility at 2701 Constant Comment Place in Blankenbaker Station Business Park.
ArcWear is a service line of Kinectrics AES Inc., a subsidiary of Toronto-based Kinectrics Inc. It develops and tests personal protective equipment (PPE) for a variety of markets, including fire service, high current testing and military protective clothing.
"ArcWear is excited to expand its service offering to better serve the PPE industry," said Brian Shiels, service line manager of ArcWear, in a news release. "This new, larger facility will help solidify our position as an industry leader in arc flash testing. Our team brings decades of experience in the testing and development of various fire service PPE. With the support of our parent company, Kinectrics, we will be able to increase our existing services and offer a variety of testing for the firefighting community."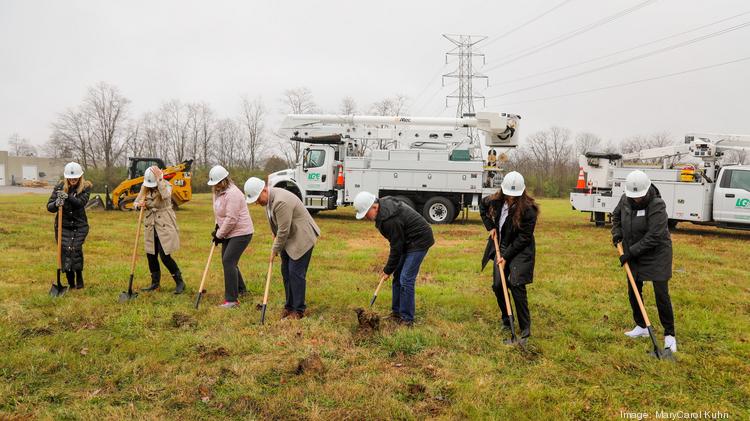 The new building is an expansion of ArcWear's Louisville operation. The company was founded by Hugh Hoagland in Louisville in 1997. It has a facility at 3018 Eastpoint Parkway. Its website said it became a part of the Kinectrics family of companies in September 2020.
"We helped develop the T-shirts and the military fabrics that our soldiers wear," Hoagland said at the grounbreaking ceremony. "…We want to protect people, and that's really what ArcWear is all about."
ArcWear has about six employees currently. It anticipates hiring between 15 and 20 more people once the new facility is completed.
Blankenbaker Station Business Park is developed by Louisville-based Hollenbach-Oakley. Horizon Commercial Realty represented ArcWear/Kinectrics on the acquisition of the property, and in partnership, Hollenbach-Oakley will be the project manager with Arc Wear/Kinectrics on building the facility.
Michigan-based TowerPinkster is the architect, while Mindel Scott & Associates is the civil engineering firm on the project. Trademark is the site constructor, and Derek Engineering is the general contractor.